The 50 Best food websites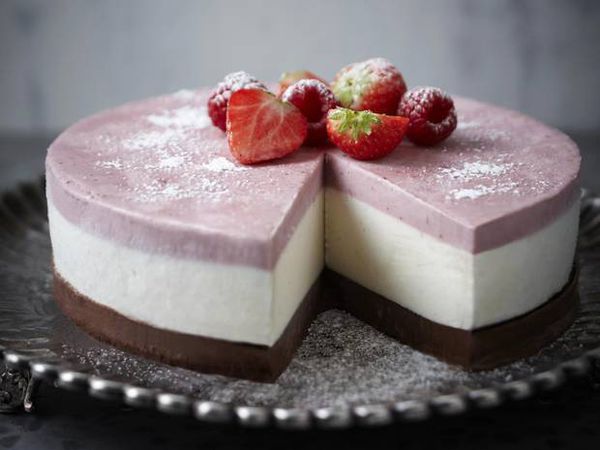 Producers:
This artisan ice-cream parlour in North London's Tufnell Park is at the forefront of the trend for properly made ice cream and wonderfully inventive flavours. Drop in for a scoop of salted caramel, damson with sour cream or lemon ripple with meringue, or order an ice cream layer cake or bombe for a special occasion. The cute Ruby Violet van is available to hire for events.
Hella Bitters
Cocktail connoisseurs know that bitters maketh the drink. Hella Bitters is a small company based in Williamsburg, Brooklyn, which launched via a Kickstarter project in 2011. The two flavours are Citrus and Aromatic, and the recipes on the website show how to use them in cocktails such as Peat's Old Fashioned and the gin-based Southside, as well as as a marinade for roast chicken and crispy bacon.
Great quality meat from Somerset, including home-reared 28-day hung beef as well as local lamb, pork and chicken around the UK. Choose pre-mixed boxes such as Belly and Brisket, Wings and Ribs, Thrifty Beef or Hungry Student, from £18, or sign up for a regular delivery.
Maltby Street Market
The capital is crammed with food markets these days, but Maltby Street, a cheeky breakaway from the overexposed Borough, is well worth a visit. The collection of small producers include Mirabilia (oleaft.com), a wonderful olive tea from Italy, and Little Bird Gin (littlebirdgin.com), the mellifluous outcome of some friends deciding to create their own London Dry gin.
The Grenada Chocolate Company
A small — but significant — cooperative with strong ideals. It produces award-winning dark chocolate in a small factory in Grenada, where the cocoa growers are making a stand against the exploitation of cocoa producer, and promoting much better standards of chocolate appreciation.
Ole Martin-Hansen smokes his salmon in east London, but the recipe comes from his great-grandfather, the first of four generations of Norwegian salmon smokers, using a special family recipe including juniper and beech wood. Available in some of the best restaurants, and to buy online.
This small, family-owned bakery in the Suffolk village of Orford believes in real bread and slow food, and will turn out anything from a white loaf to a croissant or an Eccles cake. Named BBC Best Food Producer 2012.
Netherend Farm
If you're going to treat yourself to butter — and you should — make it count by smearing only the very best on your bread. Netherend Farm in Gloucestershire produces organic butter for many top-end clients (Claridge's, Dukes Hotel and the Orient Express), but you can also find it in Waitrose, and it's no more expensive than other branded butter.
Sacred Spirits
There are many gins to choose from, but Sacred, distilled in London by a husband-and-wife team, is my favourite. The botanicals include citrus, juniper, nutmeg, cardamom and even a type of frankincense. Sacred blends a few gins and vodkas, and a vermouth, from around £30, presented in tall and elegant bottles.
Tregothnan Tea
Proudly Britain's only tea producer — nowhere else quite has the climate — the Tregothnan Estate in Cornwall blends 35 varieties thanks to its unusual microclimate, and a visit to the house and estate makes a great day out. Apparently even the Chinese, the world's largest tea producers, buy from Tregothnan in great quantities.
Chefs:
Fuchsia Dunlop
If you're not sure about Chinese food, you need to get to know Fuchsia Dunlop, the foremost expert on the cuisine in the western world. Her writing (if you're not a cook, head first for her memoir Shark's Fin and Sichuan Pepper) is as tasty as her recipes. Every Grain of Rice sets out to re-educate the British palate's coarse and generalised appreciation for the subtleties of flavour and texture in Chinese food.
Great British Chefs
The work of many chefs operating at the top of their game in the UK is showcased here, with interviews, features, hundreds of recipes for cooks of all abilities, great ideas for kids and information on seasonal ingredients. There are several accompanying apps and a great shop with cookbooks, fine ingredients and cheffy experiences.
Hugh Fearnley-Whittingstall
HFW became a household name thanks to his bucolic tales from the River Cottage, on the Devon-Dorset border, from where he practises and preaches a sustainable way of eating and living, sharing knowledge with a like-minded community of cooks, gardeners, farmers and food lovers. Browse the recipes, visit one of the three River Cottage Canteens, or book a day in the cookery school.
Ottolenghi
Master of all things Middle Eastern and owner of four eponymous café/restaurants and the fabulous Nopi, Ottolenghi has a recently revamped webstore selling everything you'll need to do his recipes justice at home. Get the Jerusalem Essentials box (£18.50) of tahini, pine nuts, sumac, za'atar, cardamom and pomegranate molasses to kick you off.
Food52
Take a moment to explore Food52 and you'll find a whole bunch of chefs and their brilliant ideas to lift you out of any eating or cooking rut: José Pizarro's salt-crusted potatoes with coriander mojo, for example. There are features, recipes and fun contests, brought together with the ethos that cooking and eating well brings families together and makes us healthier and happier.
Modernist Cuisine
Expertise of any kind, particularly the extreme skills on display here, carry costs. The six volumes of the Modernist Cuisine cookbooks will set you back £395, however, so you might prefer to get your fix of how science and experimentation intersect with cooking on this very professional website. The great stories include the science behind mac 'n' cheese.
Nigella
The more she sends up her own lascivious nature and penchant for childish and calorific foods, the more we seem to love Nigella. Her site carries video clips, kitchen kit, advice on common queries such as baking know-how, measurements and general household tips, and lots of recipes for time-poor food fans, like instant chocolate mousse and curry in a hurry.
A mobile collective of dedicated, innovative and darn tasty chefs, Kerb brings together the best food outlets on wheels in London's fast regenerating Kings Cross most weekdays, and will open on a few Saturdays throughout the summer. From handmade chocolates and frozen yoghurt to burgers, pies, dim sum, doughnuts, pintxos and much more, you'll never get bored of browsing KERB's growing group of traders.
One of the most exciting chefs working in the UK today, Simon Rogan won acclaim with L'Enclume at Cartmel in the Lakes, which now has two Michelin stars, before wowing London with his tasting menus at Roganic. His latest venture is to reinvigorate The French at Manchester's Midland Hotel.
Delia Smith
If you want to take yourself or a loved one back to quality basics (and beyond) in the kitchen, you'll find everything you need on Delia Online. Her online cookery school is full of sensible advice and techniques and clever video tutorials.
Suppliers:
Mex Grocer
Fans of Mexican cooking will know there are few places in the UK to source authentic corn tortillas or the flour for making your own, a tortilla press or a can of tomatillos. You'll find all these and many branded Mexican foods including snacks, herbs and spices on Mex Grocer.
Demijohn
A great idea and the answer to tricky gift-buying. Demijohn describes itself as a "liquid deli", and stores a wide selection of oils, vinegars and unusual spirits (red chilli rapeseed oil, bramble vinegar, Seville orange or gooseberry gin) in huge demijohns, ready to be decanted into glass bottles of varying shapes and sizes, according to the order.
Whisk
A sort of hybrid between a cookbook and an online supermarket (and a very clever one at that), Whisk has collated thousands of recipes and generates a shopping basket for users, showing where to buy the necessary ingredients, with the price and quantities calculated. More efficient and accurate than an old-school shopping list, and more fun.
Brindisa
The Brindisa online shop is a brilliant source of top quality, hard-to-find Spanish ingredients for when you want to sample the best of this increasingly popular cuisine at home. Find chorizo, morcilla, the best ham, Ortiz tuna and anchovies, cheeses, pimenton and saffron, and much more.
Sous Chef
Serious home cooks need serious ingredients, which can be difficult to source, especially in small quantities. Enter Sous Chef: the team has everything the adventurous cook could possibly need, whether you're after a rare Chinese pepper or a Middle Eastern condiment, plus a treasure trove of specialist equipment to prepare and serve your creations, as well as recipes, gift ideas and lots of technical information.
Steenbergs Organic
If you're after really good quality and ethically sourced spices, seasonings, tea, coffee and other grocery items, Steenbergs will deliver. The husband and wife team is based in North Yorkshire and their commitment to good food is borne out by their success. Their dinky pots look great in your kitchen, too.
Eight Point Nine Workshop Coffee
Coffee snobs with no space at home for a roastery can get involved with the blending process and design their own drink with Eight Point Nine. Don't worry, there's plenty of guidance from the experts on what will, might and won't work.
Virgin Wines
I agree: it is indeed tedious that Virgin feels the need to expand its brand into every available space. However its wine company is really pretty impressive: next-day delivery, interesting wines you'll be pushed to find elsewhere, and £1 credit for every fiver you spend.
The Rare Tea Company
If you know your Tie Guan Yin from your White Silver Tip, or fancy finding out, have a potter around the pages of this specialist tea company for tea information, gifts, introductory selections and tea subscriptions, once you've found a favourite.
Keen to support local shops but don't quite have the time? Hubbub is a home-delivery service that will traipse round your own high street picking up the freshest veg, meat, fish, coffee, wine, and even a cake from your favourite bakery. Currently serving around 200 London postcodes.
Blogs:
Veggie Num Num
I fell for this very pretty vegetarian blog from Australia while seeking out new ideas for tofu, for which it yielded soy & Szechuan pepper tofu with wasabi pea purée and curried black rice soup with green veggie and silken tofu. Trudy's healthy comfort food with Asian and Mediterranean influences could convert the most devoted of meat lovers.
A Girl Called Jack
Jack, a single mother from Southend, has turned her challenge to feed herself and her young son into an inspirational blog for foodies on a budget, and has won a book deal for her careful efforts. The blog is packed with tasty, mainly veggie and mostly hearty, meals for well under 50p, such as Moroccan-not-atagine (24p), Mexican chocolate, chilli and black bean soup (25p) and pineapple, carrot and sultana breakfast sunshine buns (6p each).
Gastropoda
Former New York Times food editor Regina Schrambling has decades of experience, a keen palate, great wit and operates a strict no-bullshit policy. Given so much of the UK's food pioneers currently look across the Atlantic for influences and ideas, they may well have read it here first.
The Butty reminds us that a sandwich should not mean two slices of damp bread smeared with an unholy processed filling and served in a plastic package. Great photography, fine ingredients and a little work and imagination: tiger prawns with garlic and thyme on toasted wholewheat, pulled pork and coleslaw in a warm baguette, maple and chilli mackerel with pickled cucumber. Mmmm.
Smitten Kitchen
As perceived through her blog, Deb Perelman is just so, well, likeable, as well as being funny, talented, and projecting a somewhat laissez faire attitude to her hugely successful blog, now a cookbook, which tells of her adventures in food in her tiny New York kitchen.
The London Foodie
Luiz Hara is a celebrated Italian-Japanese Brazilian chef who long ago made London his home. He traded the nine to five to pursue his love of food, trained at Le Cordon Bleu and set up his much-lauded supper club and this elegantly written blog. It is a mix of recipes, restaurant reviews and notes on his foodie travels. The mix is part of its charm.
Food Sense
This blog was created by Julie from Philadelphia, who went vegan to solve problem skin, which makes it sound incredibly worthy. In fact, it's an entertaining eye-opener on vegan eating which has developed into a community food and recipe forum, with as many indulgent recipes (German chocolate cake, blueberry oat waffles) as super-healthy ideas (15 bean soup, tahini broccoli salad).
Ms Marmite Lover
Kerstin Rogers, blogger, supper-club chef and cookbook writer, is an old hand at food blogging but her site remains quirky and inventive, her enthusiasm for the new, the retro and the theatre of food spilling over into her great photographs and accounts of cooking and dining adventures. She travels to some cool places too.
Stone Soup
Want to eat healthy, yummy food without spending hours preparing it, or sweating it out over 20-odd ingredients? Jules Clancy's Stone Soup — a website and virtual cookery school — is brimming with recipes with just five ingredients, including harissa steaks with yoghurt sauce, coconut chicken with greens, Spanish rice with chorizo and crispy chilli squid salad.
Royale with Cheese
A brilliant idea, diligently and amusingly executed. The Royale with Cheese bloggers create the ideal food to go with their favourite movies, and explain how it's done. There is Allison Reynold's weird lunch from The Breakfast Club, a $5 dollar shake to accompany Pulp Fiction, Alice in Wonderland's 'Eat Me' cake and campfire beans to enjoy with Brokeback Mountain.
Equipment:
Any cook could easily lose a weekend in Divertimenti. If you're not in the capital, explore the extensive website instead, which is packed with beautiful and useful kitchen equipment, tableware, specialist tools, books and hard-to-find condiments.
Even though Lakeland sells banana-shaped plastic cases to protect your fruit on your journey to work, it also stocks heaps of sensible and practical storage, serving and cooking products, and usually the best prices you'll find.
Coffee Hit
From Aeropress coffee makers to temperature-variable kettles, via the £40 coffee mill and the £16,00 pro espresso grinder, Coffee Hit has the craze for swanky, specialist coffee gear nailed. Stock up and challenge your Antipodean neighbours to a flat white-off.
Baking fanatics can find sugar icing in shades of lavender and daffodil, cake boards for every size and shape of sponge and sprinkles and sugar strands galore at this repository for the cake mad.
Bay Tree Cookware
A very well-considered online kitchen-equipment shop, including a wide selection of the excellent Robert Welch knives and electricals including Magimix, Nespresso and Cuisinart ice cream makers.
Information/campaigning:
Marine Stewardship Council
Is it ok to eat cod? Should I avoid tuna altogether? What's the deal with prawns these days? The ethical rules of eating from our oceans change with the tides and the EU laws; check out the Marine Stewardship Council's straightforward advice for what's hot and what's off the fish menu.
Capital Growth
An inspiring organisation which is maximising the space in London that can be used to grow food for and by the local communities. It opened up 2,012 new plots last year. If you're interested in growing your own, attend one of the frequent open days or events for advice and training.
Sustainable Restaurant Association
A big idea — which started small and has just gone global — the SRA assesses restaurants for their eco and ethical efforts, so that diners can find out how responsible a favourite eating spot is, and restaurants can trumpet their own achievements.
Hot Dinners
If you're the sort who likes to beat the critics to the latest restaurant opening and would cross the country on the promise of a truffled scotch egg, chances are the Hot Dinners crew will have got there first, and written it up so that you can plan your next move.
The Real Bread Campaign
Do you know that real bread, be it a roll, bagel or bap, a chewy sourdough, crusty baguette, ciabatta or chapatti, contains two ingredients — flour and water — along with, more often than not, yeast and salt? Discover more about real bread (many feeble pretenders bear this same name) here.
Pour être informé des derniers articles, inscrivez vous :